Looking industrial machinery online auction software? Here's how we can help
Looking to sell industrial and machinery assets online? Look no further than our industrial auction software solution. With over a decade of experience, we're experts in delivering top-of-the-line online auction solutions to our clients.
Our robust, heavy-duty software is fully customisable and tailored to your brand's colours, logos, and branding. Plus, it runs on your own website, ensuring your brand is front and centre during every sale.
Our online auction software provides a single hub for all your selling needs. With flexible selling options, including marketplace and transfer options, as well as traditional sealed bid, timed, and webcast auctions, we've got you covered.
Our pre-bidding function and real-time bidding during auctions are designed to provide the best online bidding experience for your customers. And with our scalable, easy-to-set-up auctions, you can be up and running your first sale in just a few hours.
With our industrial auction software, you won't need to invest in any hardware, programs, or licenses. We provide everything you need to get online and start competing with the biggest auction companies in the world. So why wait another day? Get in touch with us today and take your industrial auction business to the next level.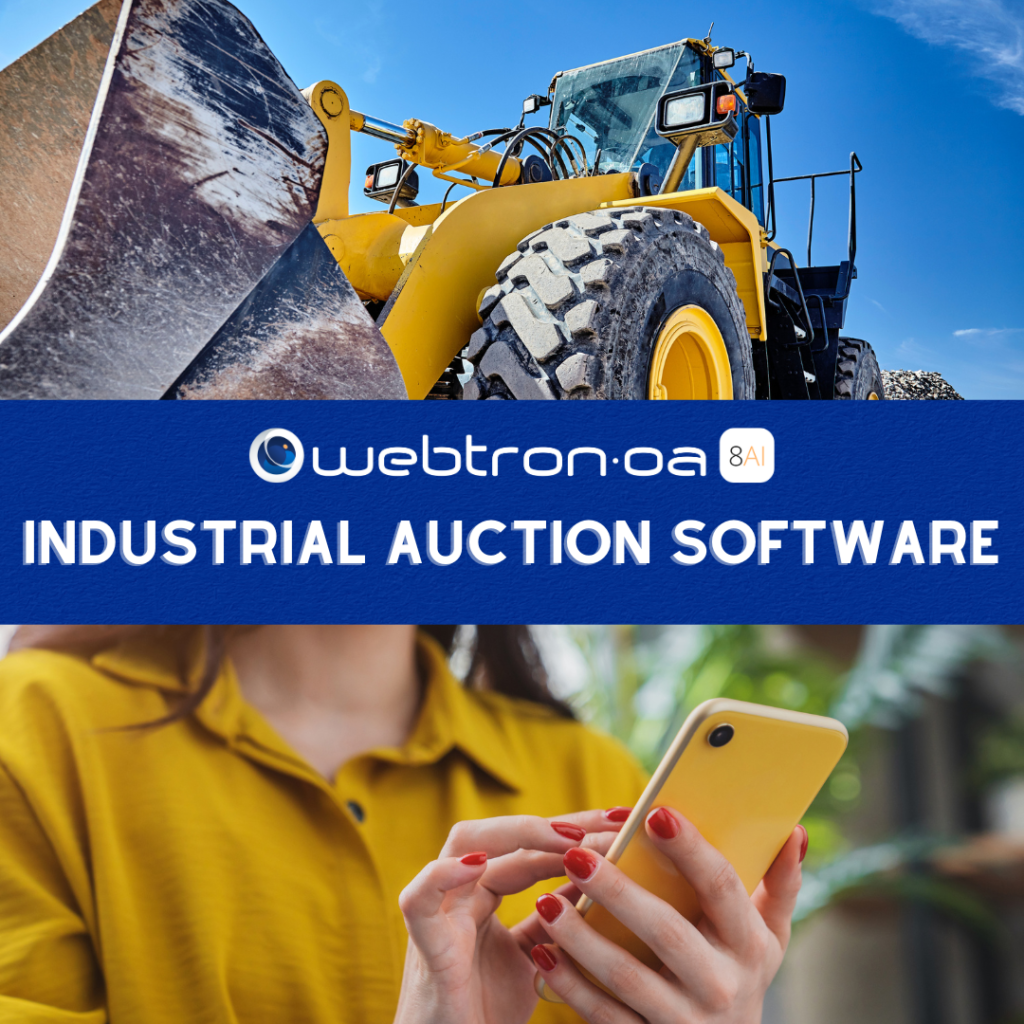 Flexible plant and machinery online auction software
As a well-known partner for industrial auctioneers all over the globe, it's important to have an online system that is scalable. Our platform can scale up and down as per your requirements.
This platform will sit in your website and will grow with your business. Some of the world biggest and well known companies use this platform everyday.
Our software is compatible with the latest in web technologies to ensure that bidding runs smoothly across all modern platforms, mobile devices and browsers.
Using our custom branding and colours feature means it's your brand bidders see, not ours.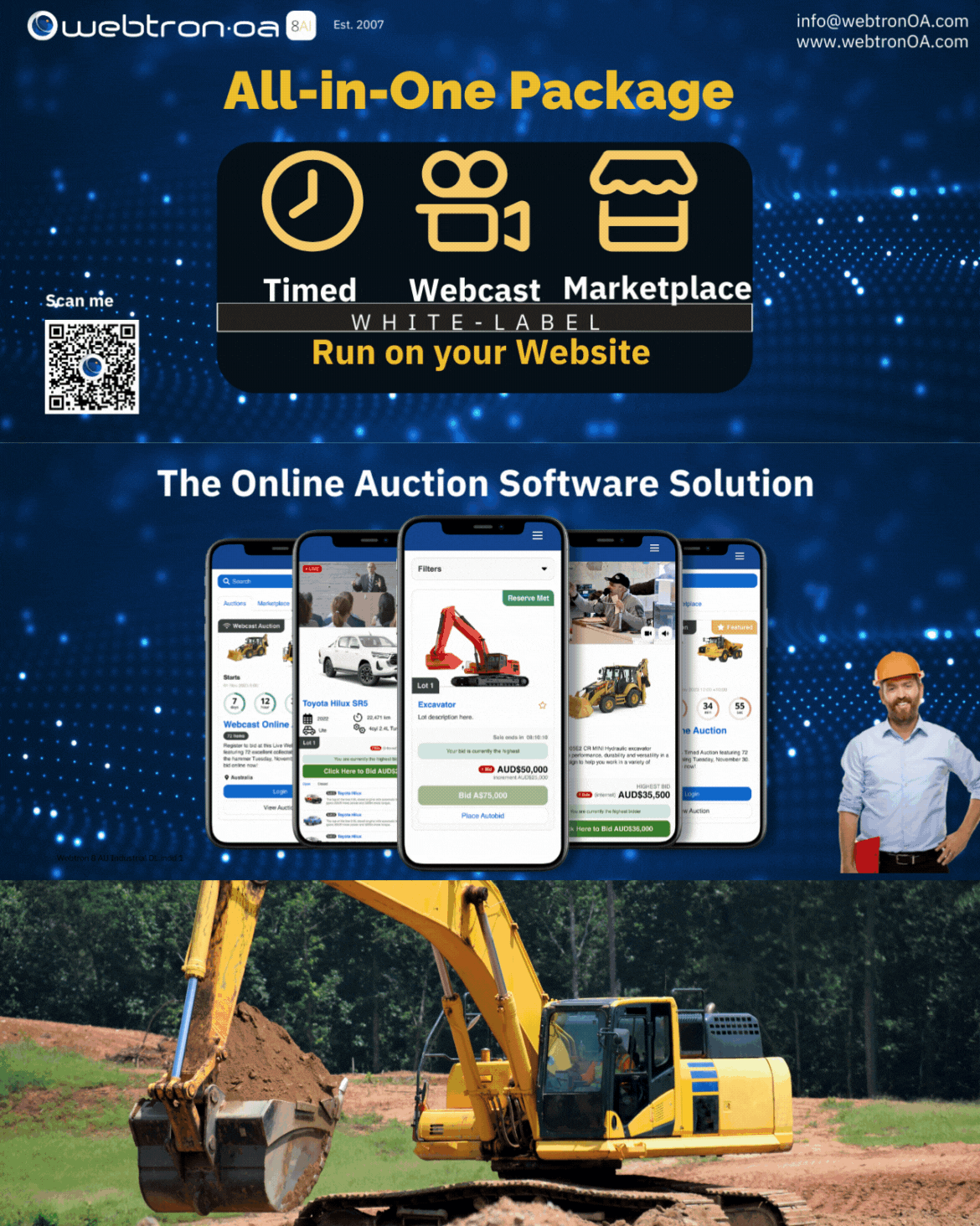 Intuitive software features for you and your bidders
We understand that your auction needs to be user-friendly and simple for both you and your bidders. That's why we've devoted time to making our software not only beneficial to bidders but also easy for you to use.
Setting up is quick and easy with just a line of code added to your website. You can import an unlimited number of photos with our user-friendly "drag-and-drop" feature and include as much detail as you like in your lot descriptions with no word or character limits.
Our software provides all popular online bidding platforms, including webcast and timed auctions, as well as useful features like bid extensions and lot staggering. Our auto-outbid notification function ensures that your bidders never miss a bid, and our platform displays real-time bidding information in a user-friendly interface.
Our in-built bidder management, real-time reporting, and invoicing and payment platforms simplify your management of every aspect of your auction. Additionally, our 24/7 support, marketing assistance, and in-house technical development team are always available to assist you regardless of your time zone or location.
Are you interested in learning more about how our industrial auction software can assist your business? Please contact us to learn more.
Online auction solutions for your business
🎥 Live Webcast Auctions
⏳ Timed Online Auctions
📈 Marketplace
👩‍💻 Remote Clerking option
✅ Everything you need & will run from your own website
🏷 White Label Auction Software – 'value protect your bidders & IP' ( Not a group site
)
So modern works on all devices without frustrating bidders to download apps
🧑‍💻 Includes Setup, Training & Local Ongoing Support
🧾 Auction invoicing & reporting
🖥 Websites & marketing
😊 Simple for bidders and powerful for auctioneers
So ready to get started?
Webtron 8AI Auction Software has finally arrived!
Now is the perfect opportunity to elevate your online auction game with Webtron's latest artificial intelligence auction software – Webtron 8AI.
Our white-label auction solution operates from your website, providing a secret weapon for industrial auctioneers to level up their online auction business.
Webtron 8AI is designed to be simple for bidders and powerful for auctioneers. With our user-friendly features, bidders can easily place bids, while auctioneers have access to powerful tools for managing their auctions.
Don't miss out on this opportunity to enhance your online auction experience. Contact us to schedule a demo for your business today!
FAQS
What are the main features of Industrial online auctions?
1. Customisable Auction Platform: The ability to customise the look and feel of the auction platform to match the auctioneer's branding and website design.

2. Bidder Registration and Verification: A simple and secure registration process for bidders, with verification to prevent fraudulent registrations.

4. Bidding and Auction Management Tools: Intuitive and easy-to-use tools for managing auctions, such as setting up auction parameters, managing bidder registration and bidding activity, and processing payments.

5. Mobile-Friendly: A mobile-responsive auction platform that is accessible on any device with an appropriate browser and internet connection, including smartphones and tablets.

6. Analytics and Reporting: Comprehensive analytics and reporting tools that provide insights into auction performance, bidder behavior, and sales trends.

7. Marketing and Promotion Tools: Tools for promoting auctions, such as email marketing integration, social media integration, and targeted advertising.

8. Customer Support: Responsive and reliable customer support to address any issues or questions that may arise during the auction process.

Overall, independent auctioneers looking to run industrial plant and machinery auctions on their own website require a robust and feature-rich online auction software platform that provides all the necessary tools and support to conduct successful auctions online.

What is Industrial Auction Software?
Industrial auction software is a type of software that is designed to help organisations or individuals conduct auctions of industrial goods, equipment, machinery and other assets. It streamlines the entire auction process by providing a platform for the same industrial assets and enables buyers to place bids online.

What are the benefits of using industrial auction software for auctioneers?

1. Increased efficiency: Auction software streamlines the entire auction process, making it more efficient and less time-consuming for auctioneers. The software automates tasks such as registration, bidding, and invoicing, reducing the need for manual intervention.

2. Expanded reach: Industrial auction software provides a platform for auctioneers to reach a broader audience, including bidders who are unable to attend live auctions. The software enables online bidding, increasing the number of potential bidders and driving up prices.

3. Improved transparency: Auction software provides transparency and accountability in the bidding process. The software tracks and records all bidding activity, ensuring that all bids are authentic and that the auction is conducted fairly.

4. Enhanced marketing: Industrial auction software provides marketing tools that allow auctioneers to promote their auctions to a wider audience. The software may offer email marketing, social media integration, and targeted advertising, increasing the visibility of auctions and driving up interest.

5. Real-time reporting: Industrial auction software provides real-time reporting on auction results, enabling auctioneers to monitor bidding activity and track the progress of the auction. The software also generates detailed reports on sales, bids, and bidder activity, providing valuable insights for future auctions.

Overall, using industrial auction software helps auctioneers to conduct more successful and profitable auctions, by expanding their reach, improving transparency, enhancing marketing efforts, and increasing efficiency.
What types of auctions can be conducted using industrial auction software?
1. Heavy equipment auctions

2. Construction equipment auctions

3. Manufacturing equipment auctions

4. Agriculture and farming equipment auctions

5. Mining and drilling equipment auctions

6. Transportation equipment auctions

7. Energy and utilities equipment auctions

8. Surplus and liquidation auctions of industrial equipment

9. Government and public agency auctions of industrial equipment

10. Warehouse and distribution equipment auctions.